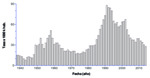 Is Colombia a violent country?
Full Text:
PDF
PDF (Español)
HTML
HTML (Español)
Abstract
"In Colombia violence does not disappear, it transforms," said the director of the National Institute of Forensic Medicine and Forensic Science (INMLCF) of Colombia recently. The Director refers to the long history of political violence that has persisted despite several peace processes; Mentions the social violence of children dying of malnutrition; Of the abuses against minors, that until October of the last year already passed of 18,000 denounces; Acid attacks on women, etc. The cruel murder of an eight-year-old girl recently happened in Bogotá is one more manifestation of the multiform violence that exists in Colombia, and that has raised the question of whether Colombia is truly an exceptionally violent country.
[1] http://www.semana.com/nacion/articulo/carlos-valdes-director-del-instituto-de-medicina-legal-violencia-en-colombia/511538
Keywords
Violencia, maltrato infantil,
References
- Krug EG et al.; eds. 2002. "World Report on Violence and Health." Geneva. World Health Organization.
-Guerrero Velasco, R., Gutiérrez Martínez, M.I., Fandiño-Losada, A. y Cardona, S. 2012. "Sistema de Indicadores Comparables de Convivencia Y Seguridad Ciudadana: Un Consenso de Países." Revista Panamericana de Salud Pública 31 (3): 253–59
-Instituto CISALVA, Universidad del Valle (Colombia). Reporte del Proyecto SES. Cali: Universidad del Valle; 2014.
-Chioda, Laura. 2016. "Stop the Violence in Latin America: A Look at Prevention from Cradle to Adulthood." Latin American Development Forum Series. Washington DC 20433.
-UNODC – United Nations Office on Drugs and Crime. Global Study on Homicide 2013. Vienna: UNODC, 2014.
- INMLCF – Instituto Nacional de Medicina Legal y Ciencias Forenses (Colombia). "FORENSIS 2014 [2013, 2012, etc.] Datos para la Vida" (2015, 2014, etc.) www.medicinalegal.gov.co/forensis.
- Protección Social, Ministerio. Instituto CISALVA, Universidad del Valle. 2004. "Evaluación Del Impacto de Una Estrategia de Información, Educación y Comunicación para la Prevención de la Violencia." Bogotá.
- Rodriguez, J.M., Muñoz, E., Fandiño-Losada, A. y Gutiérrez, M.I., 2006. Evaluación de la estrategia de comunicación "Mejor hablemos" para promover la convivencia pacífica en Cali, 1996-2000. Revista de Salud Pública, 8(3), pp.168-184.
-Nelson III, Charles A., Nathan A. Fox, and Charles H. Zeanah, Jr. 2013. "Child Development Anguish of the Abandoned Child, The Plight of Orphaned Romanian Children Reveals the Psychic and Physical Scars from First Years Spent without a Loving, Responsive Caregiver." Scientific American 308 (4): 62–67
- Susan D., Mercy James A. Saul Janet R Hillis. 2016. "The Enduring Impact of Violence against Children." Psychology, Health & Medicine.
Full Text:
PDF
PDF (Español)
HTML
HTML (Español)