Abdominal and thoracic wall closure: damage control surgery's cinderella
Abstract
Damage control surgery principles allow delayed management of traumatic lesions and early metabolic resuscitation by performing abbreviated procedures and prompt resuscitation maneuvers in severely injured trauma patients. However, the initial physiological response to trauma and surgery, along with the hemostatic resuscitation efforts, causes important side effects on intracavitary organs such as tissue edema, increased cavity pressure, and hemodynamic collapse. Consequently, different techniques have been developed over the years for a delayed cavity closure. Nonetheless, the optimal management of abdominal and thoracic surgical closure remains controversial. This article aims to describe the indications and surgical techniques for delayed abdominal or thoracic closure following damage control surgery in severely injured trauma patients, based on the experience obtained by the Trauma and Emergency Surgery Group (CTE) of Cali, Colombia. We recommend negative pressure dressing as the gold standard technique for delayed cavity closure, associated with higher wall closure success rates and lower complication and mortality rates. 
Authors
Downloads
Download data is not yet available.
Keywords
Delayed Cavity Closure
Temporary Closure
Open Abdomen
Negative Pressure Dressing
Thoracic Packing
Hemodynamically Unstable
Damage Control Surgery
References
Finlay IG, Edwards TJ, Lambert AW. Damage control laparotomy. Br J Surg 2004;91:83–5. https://doi.org/10.1002/bjs.4434.
Benz D, Balogh ZJ. Damage control surgery: Current state and future directions. Curr Opin Crit Care 2017;23:491–7. https://doi.org/10.1097/MCC.0000000000000465.
Giannoudi M, Harwood P. Damage control resuscitation: lessons learned. Eur J Trauma Emerg Surg 2016;42:273–82. https://doi.org/10.1007/s00068-015-0628-3.
Beldowicz BC. The Evolution of Damage Control in Concept and Practice. Clin Colon Rectal Surg 2018;31:30–5. https://doi.org/10.1055/s-0037-1602177.
Padar M, Blaser AR, Talving P, Lipping E, Starkopf J. Abdominal compartment syndrome: Improving outcomes with a multidisciplinary approach – a narrative review. J Multidiscip Healthc 2019;12:1061–74. https://doi.org/10.2147/JMDH.S205608.
Wall J, Soltero E. Damage control for thoracic injuries. Surg Clin North Am 1997;77:863–78. https://doi.org/10.1016/S0039-6109(05)70590-9.
Roberts DJ, Ball CG, Feliciano D V., Moore EE, Ivatury RR, Lucas CE, et al. History of the Innovation of Damage Control for Management of Trauma Patients: 1902-2016. Ann Surg 2017;265:1034–44. https://doi.org/10.1097/SLA.0000000000001803.
Waibel BH, Rotondo MMF. Cirurgia para o controle de danos: Sua evolução durante os últimos 20 anos. Rev Col Bras Cir 2012;39:314–21. https://doi.org/10.1590/S0100-69912012000400012.
Coccolini F, Roberts D, Ansaloni L, Ivatury R, Gamberini E, Kluger Y, et al. The open abdomen in trauma and non-trauma patients: WSES guidelines. World J Emerg Surg 2018;13. https://doi.org/10.1186/s13017-018-0167-4.
Hu P, Uhlich R, Gleason F, Kerby J, Bosarge P. Impact of initial temporary abdominal closure in damage control surgery: A retrospective analysis. World J Emerg Surg 2018;13. https://doi.org/10.1186/s13017-018-0204-3.
O'Connor J V., DuBose JJ, Scalea TM. Damage-control thoracic surgery: Management and outcomes. J Trauma Acute Care Surg 2014;77:660–5.
https://doi.org/10.1097/TA.0000000000000451.
Correa JC, Mejía DA, Duque N, J MM, Uribe CM. Managing the open abdomen: negative pressure closure versus mesh-mediated fascial traction closure: a randomized trial. Hernia 2016;20:221–9. https://doi.org/10.1007/s10029-016-1459-9.
Rogers WK, Garcia L. Intraabdominal Hypertension, Abdominal Compartment Syndrome, and the Open Abdomen. Chest 2018;153:238–50. https://doi.org/10.1016/j.chest.2017.07.023.
Fernandez LG, Sibaja Alvarez P, Kaplan MJ, Sanchez-Betancourt AA, Matthews MR, Cook A. Application of Negative Pressure Wound Therapy with Instillation and Dwell Time of the Open Abdomen: Initial Experience. Cureus 2019;11. https://doi.org/10.7759/cureus.5667.
Maluso P, Olson J, Sarani B. Abdominal Compartment Hypertension and Abdominal Compartment Syndrome. Crit Care Clin 2016;32:213–22. https://doi.org/10.1016/j.ccc.2015.12.001.
Kirkpatrick AW, Roberts DJ, De Waele J, Jaeschke R, Malbrain MLNG, De Keulenaer B, et al. Intra-abdominal hypertension and the abdominal compartment syndrome: Updated consensus definitions and clinical practice guidelines from the World Society of the Abdominal Compartment Syndrome. Intensive Care Med., vol. 39, Intensive Care Med; 2013, p. 1190–206. https://doi.org/10.1007/s00134-013-2906-z.
Riahi M, Tomatis LA, Schlosser RJ, Bertolozzi E, Johnston DW. Cardiac compression due to closure of the median sternotomy in open heart surgery. Chest 1975;67:113–4. https://doi.org/10.1378/chest.67.1.113.
Akay MH, Frazier OH. Thoracic compartment syndrome: A case report. Heart Surg Forum 2012;15. https://doi.org/10.1532/HSF98.20111071.
Caceres M, Buechter KJ, Tillou A, Shih JA, Liu D, Steeb G. Thoracic packing for uncontrolled bleeding in penetrating thoracic injuries. South Med J 2004;97:637–41. https://doi.org/10.1097/00007611-200407000-00005.
Bouboulis N, Rivas LF, Kuo J, Dougenis D, Dark JH, Holden MP. Packing the chest:A useful technique for intractable bleeding after open heart operation. Ann Thorac Surg 1994;57:856–60. https://doi.org/10.1016/0003-4975(94)90189-9.
Ordoñez C, Pino L, Badiel M, Sanchez A, Loaiza J, Ramirez O, et al. The 1-2-3 approach to abdominal packing. World J Surg 2012;36:2761–6. https://doi.org/10.1007/s00268-012-1745-3.
Patel NY, Cogbill TH, Kallies KJ, Mathiason MA. Temporary abdominal closure: Long-term outcomes. J Trauma - Inj Infect Crit Care 2011;70:769–74. https://doi.org/10.1097/TA.0b013e318212785e.
Coccolini F, Montori G, Ceresoli M, Catena F, Ivatury R, Sugrue M, et al. IROA: International Register of Open Abdomen, preliminary results. World J Emerg Surg 2017;12. https://doi.org/10.1186/s13017-017-0123-8.
Guetta O, Brotfain E, Shaked G, Sebbag G, Klein M, Czeiger D. Intra-abdominal pressure may be elevated in patients with open abdomen after emergent laparotomy. Langenbeck's Arch Surg 2020;405:91–6. https://doi.org/10.1007/s00423-020-01854-7.
Batacchi S, Matano S, Nella A, Zagli G, Bonizzoli M, Pasquini A, et al. Vacuum-assisted closure device enhances recovery of critically ill patients following emergency surgical procedures. Crit Care 2009;13. https://doi.org/10.1186/cc8193.
Rencüzoğulları A, Dalcı K, Eray İC, Yalav O, Okoh AK, Akcam T, et al. Open abdomen yönetiminde erken dönem cerrahi alternatiflerin karşılaştırılması: Randomize ileriye yönelik çalışma. Ulus Travma ve Acil Cerrahi Derg 2015;21:168–74. https://doi.org/10.5505/tjtes.2015.09804.
Aprahamian C, Wittmann DH, Bergstein JM, Quebbeman EJ. Temporary abdominal closure (TAC) for planned relaparotomy (Etappenlavage) in trauma. J Trauma - Inj Infect Crit Care 1990;30:719–23. https://doi.org/10.1097/00005373-199006000-00011.
Barker DE, Kaufman HJ, Smith LA, Ciraulo DL, Richart CL, Burns RP. Vacuum pack technique of temporary abdominal closure: A 7-year experience with 112 patients. J.
Trauma - Inj. Infect. Crit. Care, vol. 48, Lippincott Williams and Wilkins; 2000, p. 201–7. https://doi.org/10.1097/00005373-200002000-00001.
Cicuttin E, Ansaloni L, Ceresoli M, Fugazzola P, Tomasoni M, Sartelli M, et al. Trends in open abdomen management in Italy: a subgroup analysis from the IROA project. Updates Surg 2020;72:171–7. https://doi.org/10.1007/s13304-019-00687-4.
Poillucci G, Podda M, Russo G, Perri SG, Ipri D, Manetti G, et al. Open abdomen closure methods for severe abdominal sepsis: a retrospective cohort study. Eur J Trauma Emerg Surg 2020. https://doi.org/10.1007/s00068-020-01379-0.
Sibaja P, Sanchez A, Villegas G, Apestegui A, Mora E. Management of the open abdomen using negative pressure wound therapy with instillation in severe abdominal sepsis: A review of 48 cases in Hospital Mexico, Costa Rica. Int J Surg Case Rep 2017;30:26–30. https://doi.org/10.1016/j.ijscr.2016.11.024.
Vargo DJ, Battistella FD. Abbreviated thoracotomy and temporary chest closure: An application of damage control after thoracic trauma. Arch Surg 2001;136:21–4. https://doi.org/10.1001/archsurg.136.1.21.
Lang JL, Gonzalez RP, Aldy KN, Carroll EA, Eastman AL, White CQ, et al. Does temporary chest wall closure with or without chest packing improve survival for trauma patients in shock after emergent thoracotomy? J Trauma - Inj Infect Crit Care 2011;70:705–9. https://doi.org/10.1097/TA.0b013e31820e89f1.
Moriwaki Y, Toyoda H, Harunari N, Iwashita M, Kosuge T, Arata S, et al. Gauze packing as damage control for uncontrollable haemorrhage in severe thoracic trauma. Ann R Coll Surg Engl 2013;95:20–5. https://doi.org/10.1308/003588413X13511609956057.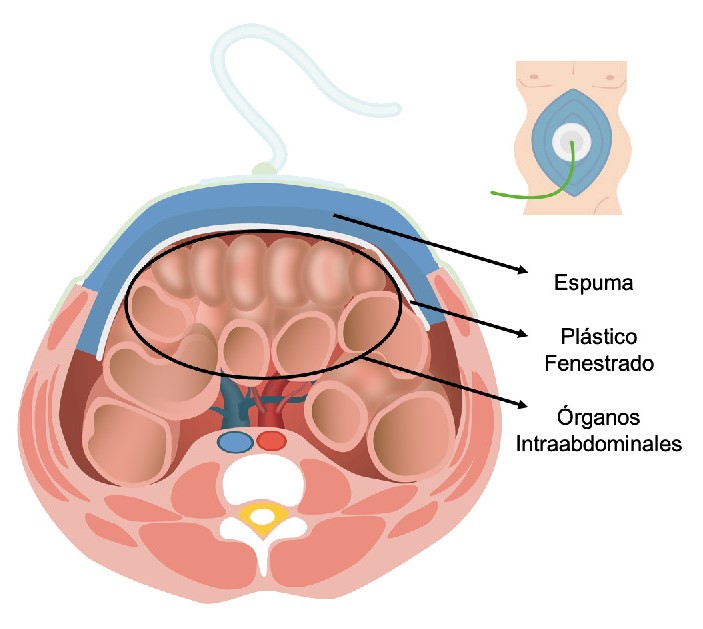 | 768 |
How to Cite
Rodríguez-Holguín, F., González-Hadad, A., Mejia, D., Ceballos, C., Himmler, A., Caicedo, Y., Salcedo, A., Serna, J. J., Herrera, M. A., Pino, L. F., Parra, M., & Ordoñez, C. A. (2021). Abdominal and thoracic wall closure: damage control surgery's cinderella. Colombia Médica, 52(2), e4144777. https://doi.org/10.25100/cm.v52i2.4777
Copyright (c) 2021 Universidad del Valle
This work is licensed under a Creative Commons Attribution-NonCommercial 4.0 International License.
The copy rights of the articles published in Colombia Médica belong to the Universidad del Valle. The contents of the articles that appear in the Journal are exclusively the responsibility of the authors and do not necessarily reflect the opinions of the Editorial Committee of the Journal. It is allowed to reproduce the material published in Colombia Médica without prior authorization for non-commercial use