ORCID
ORCiD: how to include it in your online submission (and why you should)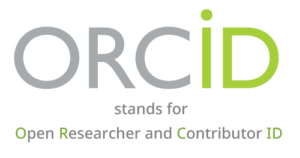 What's an ORCID?
An ORCiD (note the iD in there) is a digital identifier that distinguishes you from every other researcher, no matter how common your name is. It ensures you and your research activities can be easily identified, meaning you get the credit for all the work you do. Plus it's free and takes just 30 seconds to do.
Why do you need an ORCiD?
Once you have an ORCiD it can be tied to, and integrated in, your research activity. That includes in the journal articles you publish.
If you include an ORCiD as you submit your manuscript to be published in a Taylor & Francis or Routledge journal your ORCiD can be on your published article. That means people can use it to see what else you've published and what other research activities you're been up to (such as grant submissions or book chapters), showcasing your professional activities.
How do you get one?
1. Register online at orcid.org
2. Start to build your ORCiD record with your professional information and link to your other online profiles such as Scopus, LinkedIn, Twitter or ResearcherID.
3. Include your ORCiD on your webpage, when you submit publications, apply for grants, and in any research workflow to ensure you get credit for your work.
How do you include your ORCiD in your online submission to Colombia Médica?
To include your ORCiD, simply add it to your account after you login.
Go to your name at the top of the login screen and select from the drop down menu 'Email/Name'. From the options on screen, select either register for an ORCiD (if you don't already have one) or associate your account with an existing one via the links.
Once published, your ORCiD will then be on the first page of your published article (PDF version) on Online.