Retinal lipemia as expression of hyperchylomicronemia syndrome
Abstract
Case description:
Case of Lipemia Retinalis (Lipemia Retinalis  ) secondary to hyperchylomicronemia in a 40-year-old man with a history of total body irradiation and immunosuppressive treatment came to the hospital due to decreased visual acuity and abdominal pain.
Clinical findings:
Hyperchylomicronemia caused the development of acute pancreatitis and Lipemia Retinitis  . The last one is an infrequent ocular manifestation that reflects excessive triglyceride parameters in the organism (> 2.000 mg / dL). Lipemia Retinalis is the accumulation of chylomicrons in the retinal vessels, which gives them a white and creamy appearance in direct retinal ophthalmoscopy. The initial clinical suspicion of hyperchylomicronemia was based on the visualization of the supernatant in the analytical tube.
Treatment and result:
Without having definitive biochemical results, due to the need for special processing of the sample, lipid-lowering treatment and serum therapy were established after the ophthalmological confirmation of Lipemia Retinalis, with full recovery of visual acuity.
Clinical relevance:
Given the initial difficulty in this kind of patient to determine the accurate triglyceride levels, early visualization of milky-colored retinal vessels on a salmon-colored fundus can help develop an early clinical suspicion of severe hyperchylomicronemia and contribute to limit the severity of complications.
Authors
Downloads
Download data is not yet available.
Keywords
Hyperlipidemias
Retinal
Hyperlipoproteinemia Type I
Hypertriglyceridemia
Pancreatitis
Lipoprotein Lipase
Fundus Oculi
Retinal Artery
Amylases
Dyslipidemias
References
Mishra C, Tripathy K. Lipemia Retinalis. 2021 Feb 14. In: StatPearls [Internet]. Treasure Island (FL): StatPearls Publishing; 2021 Jan.
Brunzell JD, Bierman EL. Chylomicronaemia syndrome: interaction of genetic and acquired hypertriglyceridaemia. Med Clin North Am 1982;66:455-68. https://doi.org/10.1016/S0025-7125(16)31430-4
Vinger PF, Sachs, BA. Ocular manifestations of hyperlipoproteinaemia. Am J Ophthalmol 1970;70:563-72. https://doi.org/10.1016/0002-9394(70)90890-1
Heyl AG. Intraocular lipaemia. Trans Am Ophthalmol Soc 1880;3:55.
Siri-Tarino PW, Krauss RM. The early years of lipoprotein research: from discovery to clinical application. J Lipid Res. 2016 Oct;57(10):1771-1777. https://doi.org/10.1194/jlr.R069575
Chait A, Brunzell JD. Chylomicronemia syndrome. Adv Intern Med 1992;37:249-73.
Lu CK, Chen SJ, Niu DM, Tsai CC, Lee FL, Hsu WM. Electrophysiological changes in lipaemia retinalis. Am J Ophthalmol. 2005 Jun;139(6):1142-5. https://doi.org/10.1016/j.ajo.2004.12.021
Rayner S, Lee N, Leslie D, Thompson G. Lipaemia retinalis: a question of chylomicrons? Eye (Lond). 1996;10 (Pt 5):603-8. https://doi.org/10.1038/eye.1996.138
Leaf DA. Chylomicronemia and the chylomicronemia syndrome: a practical approach to management. Am J Med. 2008 Jan;121(1):10-2. https://doi.org/10.1016/j.amjmed.2007.10.004
Berglund L, Brunzell JD, Goldberg AC, Goldberg IJ, Sacks F, Hassan Murad M et al. Evaluation and Treatment of Hypertriglyceridemia: An Endocrine Society Clinical Practice Guideline. The Journal of Clinical Endocrinology and Metabolism. 2012;97(9):2969-2989. https://doi.org/10.1210/jc.2011-3213
R. Rajendran, E. Abu, A. Fadl, C. D. Byrne. Late effects of childhood cancer treatment: severe hypertriglyceridaemia, central obesity, nonalcoholic fatty liver disease, and diabetes as complications of childhood total body irradiation. Diabet Med,. 2013 Aug;30(8):e239-42. https://doi.org/10.1111/dme.12234
Horton M, Thompson K. Lipemia retinalis preceding acute pancreatitis. Optometry. 2011 Aug;82(8):475-80. https://doi.org/10.1016/j.optm.2011.01.011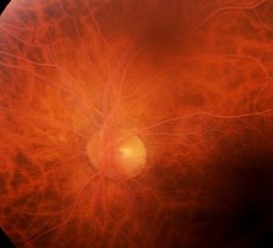 | 42 |
How to Cite
Ortiz de Salido Menchaca, J., Tazón Varela, M., de la Hera Vegas, D., Herreras Martínez, R., Álvarez Agudelo, S., & Arencibia Hernández, N. (2021). Retinal lipemia as expression of hyperchylomicronemia syndrome. Colombia Médica, 52(1), e7024059. Retrieved from https://colombiamedica.univalle.edu.co/index.php/comedica/article/view/4059
Copyright (c) 2021 Universidad del Valle
This work is licensed under a Creative Commons Attribution-NonCommercial 4.0 International License.
The copy rights of the articles published in Colombia Médica belong to the Universidad del Valle. The contents of the articles that appear in the Journal are exclusively the responsibility of the authors and do not necessarily reflect the opinions of the Editorial Committee of the Journal. It is allowed to reproduce the material published in Colombia Médica without prior authorization for non-commercial use