Traumatic injury of radial and ulnar artery with perfusion of the hand through the median artery: a case report
Abstract
Case description:
A young male patient with a complete section of the ulnar and radial arteries preserved the perfusion of the hand through an anatomical variant, the median artery, identified by angiotomography.
Clinical Findings:
A wound in the distal third of the left forearm with present pulses and adequate hand coloration. An angiotomography of the upper left limb showed a median artery originating as a continuation of the anterior interosseous artery and ending in the palm of the hand with an incomplete superficial palmar arch.
Treatment and Outcomes:
Ligation of both radial and ulnar arteries was performed. It was not possible to follow up with the patient.
Clinical Relevance:
Forming the superficial and deep palmar arches, the irrigation of the hand comes from the ulnar and radial arteries, which can compromise the viability of the limb when injured. The median artery is present in 0.6-21.1% of the population, originates from the anterior interosseous artery (branch of the ulnar), accompanies the median nerve in its path and ends in the palm joining the superficial palmar arch. Diagnostic imaging is a key tool for assessing arterial circulation and characterizing upper limb vascular lesions. Knowledge of the anatomical variations of the arterial supply of the hand, including variability of the superficial palmar arch, is crucial for the safety and success of hand surgeries.
Authors
Downloads
Download data is not yet available.
Keywords
Anatomic Variation
Vascular System Injuries
Median Artery
Angiography
Ulnar Artery
Radial Artery
Anastomosis, Surgical
References
Drake R, Vogl A. W., Mitchell A. Gray's Anatomy for Students. Elsevier Health Science. Fourth edition. 2019.
Haładaj R, Wysiadecki G, Dudkiewicz Z, Polguj M, Topol M. Persistent median artery as an unusual finding in the carpal tunnel: its contribution to the blood supply of the hand and clinical significance. Med Sci Monit. 2019; 25: 32-39. https://doi.org/10.12659/MSM.912269
Nayak S.R., Krishnamurthy A, Madhan Kumar SJ, Prabhu L.V., Potu B.K., D'Costa S., et al. Palmar type of median artery as a source of superficial palmar arch: a cadaveric study with its clinical significance. Hand (N Y). 2010 Mar; 5(1): 31-36. https://doi.org/10.1007/s11552-009-9197-4
Singla R.K., Kaur N, Dhiraj G.S. Prevalence of the persistant median artery. J Clin Diagn Res. 2012 Nov; 6(9): 1454-1457. https://doi.org/10.7860/JCDR/2012/4218.2531
Rodríguez-Niedenführ M., Sañudo J.R., Vásquez T., Nearn L., Logan B., Parkin I.. Median artery revisited. J Anat. 1999 Jul; 195(Pt 1): 57-63. https://doi.org/10.1046/j.1469-7580.1999.19510057.x
Coleman S S, Anson B J. Arterial patterns in the hand based upon a study of 650 specimens. Surg Gynecol Obstet. 1961 Oct;113:409-24. PMID: 13694610.
Loukas M, Holdman D, Holdman S. Anatomical variations of the superficial and deep palmar arches. Folia Morphol (Warsz). 2005 May;64(2):78-83. PMID: 16121323.
Lebowitz C, Matzon J.L. Arterial injury in the upper extremity: evaluation, strategies, and anticoagulation management. Hand Clin. 2018 Feb;34(1):85-95. https://doi.org/10.1016/j.hcl.2017.09.009
Horst C, Schmitt O, Wree A. Large patent median arteries and their relation to the superficial palmar arch with respect to history, size consideration and clinic consequences. Surg Radiol Anat. 2008 Feb;30(1):57-63. https://doi.org/10.1007/s00276-007-0290-5
Proudman T W, Menz P J. An anomaly of the median artery associated with the anterior interosseous nerve syndrome. J Hand Surg Br. 1992 Oct;17(5):507-9. https://doi.org/10.1016/S0266-7681(05)80231-1
Lee M.J., LaStayo P.C. Pronator syndrome and other nerve compressions that mimic carpal tunnel syndrome. J Orthop Sports Phys Ther. 2004 Oct;34(10):601-9. https://doi.org/10.2519/jospt.2004.34.10.601
Jones N F, Ming N L. Persistent median artery as a cause of pronator syndrome. J Hand Surg Am. 1988 Sep;13(5):728-32. https://doi.org/10.1016/S0363-5023(88)80135-7
Gainor B J, Jeffries J T. Pronator syndrome associated with a persistent median artery. A case report. J Bone Joint Surg Am. 1987 Feb;69(2):303-4. PMID: 3805098.
https://doi.org/10.2106/00004623-198769020-00026
Eid N, Ito Y, Shibata M A, Otsuki Y. Persistent median artery: cadaveric study and review of the literature. Clin Anat. 2011 Jul;24(5):627-33. https://doi.org/10.1002/ca.21127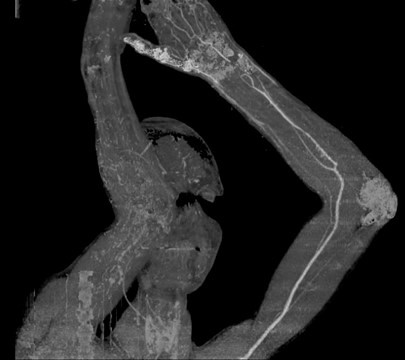 | 93 |
How to Cite
Calderón Ardila, D., Ballesteros Larrota, D. R., Calderón Ardila, M. A., & Ballesteros Acuña, L. E. (2021). Traumatic injury of radial and ulnar artery with perfusion of the hand through the median artery: a case report. Colombia Médica, 52(2), e5024521. https://doi.org/10.25100/cm.v52i2.4521
Copyright (c) 2021 Universidad del Valle
This work is licensed under a Creative Commons Attribution-NonCommercial 4.0 International License.
The copy rights of the articles published in Colombia Médica belong to the Universidad del Valle. The contents of the articles that appear in the Journal are exclusively the responsibility of the authors and do not necessarily reflect the opinions of the Editorial Committee of the Journal. It is allowed to reproduce the material published in Colombia Médica without prior authorization for non-commercial use